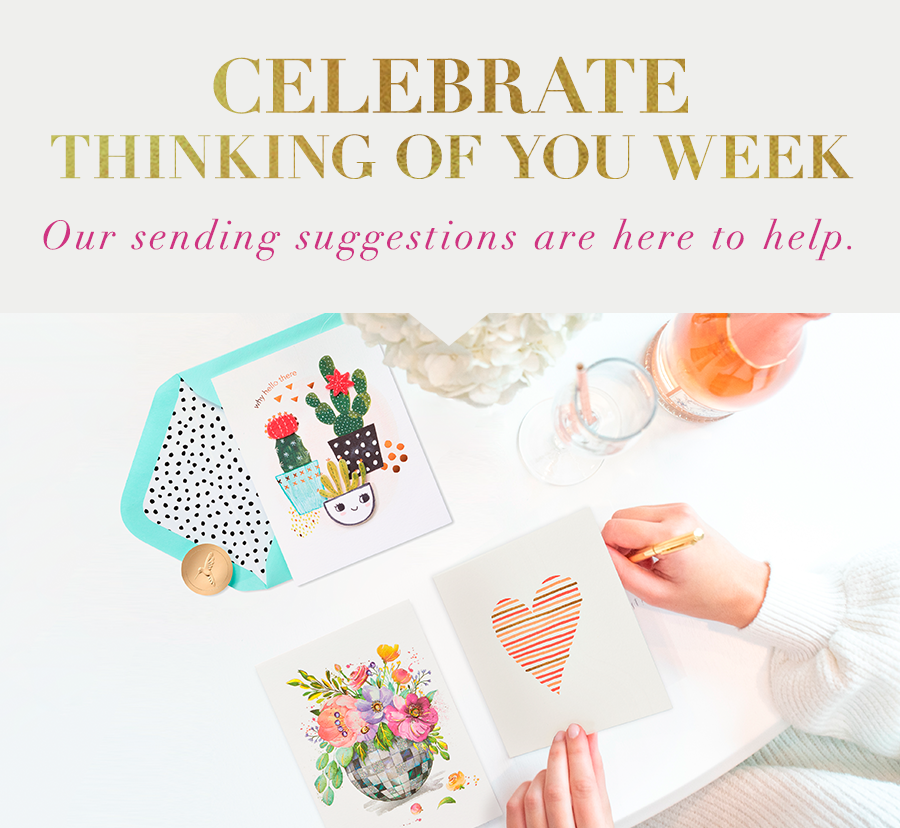 How to Show You've Been Thinking of Them
Thinking of You Week is the perfect opportunity to surprise your favorite people with a little extra appreciation. Even if they haven't heard from you in a while, a thoughtful card could be just the thing to make their day. So, what are you waiting for? Take your pick of Papyrus cards then get cozy, grab a pen, and let the inspiration flow.  
If you need some help getting started, here are a few suggestions: 
Send a Smile Across the Miles
Sometimes the people we're closest to are the ones who live the farthest away. If that's true for you, choose a card that feels right for your long-distance friend and fill it with things they'll love: a photo of the two of you, an inside joke, a memory, or ideas for your next trip together.  
Reconnect with a Coworker
Whether you work remotely from your colleagues or just across a cubicle wall, a little note can add lots of joy to their day. Thank your boss for their support, reminisce about old times with your mentor, or let your office bestie know how excited you are to catch up over coffee. 
Brighten the Neighborhood
A card is ideal for meeting the neighbors or connecting with your community. Drop off a note with some treats to welcome new arrivals to the neighborhood. Write a personal introduction, get them excited about the area, or invite them over for drinks. There is no shortage of ways to make people feel at home.    
Retail Locator
Our website hosts a curated selection of a few of our favorite designs. Check back frequently for updates and additions. Until then, head to a retailer near you to shop for hundreds more!