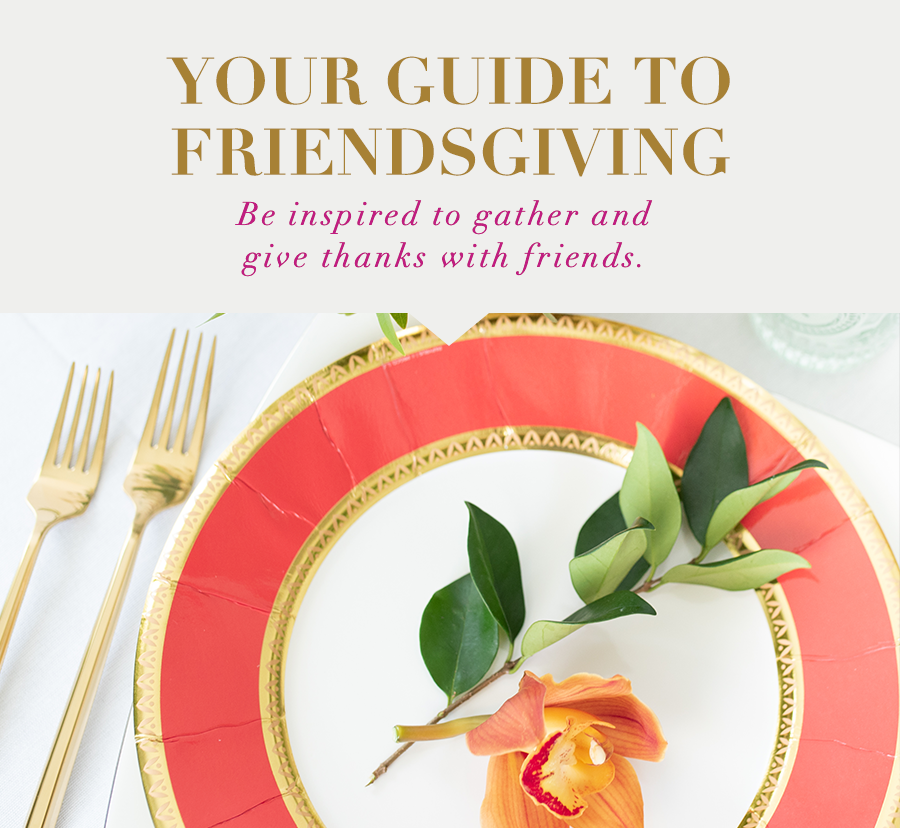 Your Guide to Friendsgiving
Friendsgiving is a fun and festive reason to gather and celebrate the fall season and the friendships that matter most to us. Want to host your own Friendsgiving? Grab your favorite fall beverage and read on, because we're here to help you plan an unbe-leaf-ably amazing celebration to share with all your favorite people.​
Step 1: Event Details
First, you'll want to plan your event details (the time, date, place, and guest list). Choose a space that will give you all the cozy vibes and encourage connection and conversation. To make your event feel extra special, consider sending out personalized invitations by mail. Next, decide what style your gathering will be. This is your chance to set the overall tone and feel of your Friendsgiving. Maybe you want it to feel playful and fun, timeless and traditional, or stylish and sophisticated. You can even give your event a specific theme to inspire the menu, décor, and attire (for example: a cozy pajama party with a brunch food menu or a "pumpkin spice and everything nice" theme with lots of pumpkin-flavored food and drinks). You can also make it a potluck style event and have each guest bring a favorite side dish or dessert to share. ​
Step 2: The Menu
Once you confirm the number of guests attending and your overall party style, you can plan your menu (yum!). If you've chosen a theme, it can guide the food and drinks you plan to serve. Depending on your overall style/theme, you may want to serve more traditional Thanksgiving staples and fall comfort foods, or you might want to do something totally outside the box like tacos, pizza, etc.
Step 3: The Atmosphere
Now that you've figured out all the delicious food and drinks you'll enjoy, it's time to dream up the décor.
Give your Friendsgiving fall flair by creating an autumn-inspired table scape. To create an eye-catching centerpiece, choose fresh flowers in an array of fall shades. Then, make it gourd-eous with small pumpkins or gourds from your local farmer's market. Personalize your décor by adding photos of your friends to the centerpieces, or create a decorative banner that features the photos.
Enhance the autumn atmosphere even more by choosing coordinating plates and napkins in vibrant autumn hues.
Create place cards for each guest, and print one of our free gratitude printables to include at each place setting. Guests can share what they're grateful for and then take their printable home as a meaningful keepsake.
A colorful and inviting table will really add to the overall feeling and make guests feel special and welcome. And don't forget about music! Create a playlist to set the mood as guests mingle.
Attending a Friendsgiving?
Consider bringing a beautiful card/gift to express your gratitude to the host or hostess. You could even bring drinks to share in one of our fabulous bags. (Cheers to friendship!) Whether you're hosting or attending, have fun making unforgettable Friendsgiving memories and enjoying time with the friends you're grateful for all year. ​
Check out our online assortment of Thanksgiving greeting cards and entertaining items to celebrate the season. For more options, visit one of our retail locations online and in person!