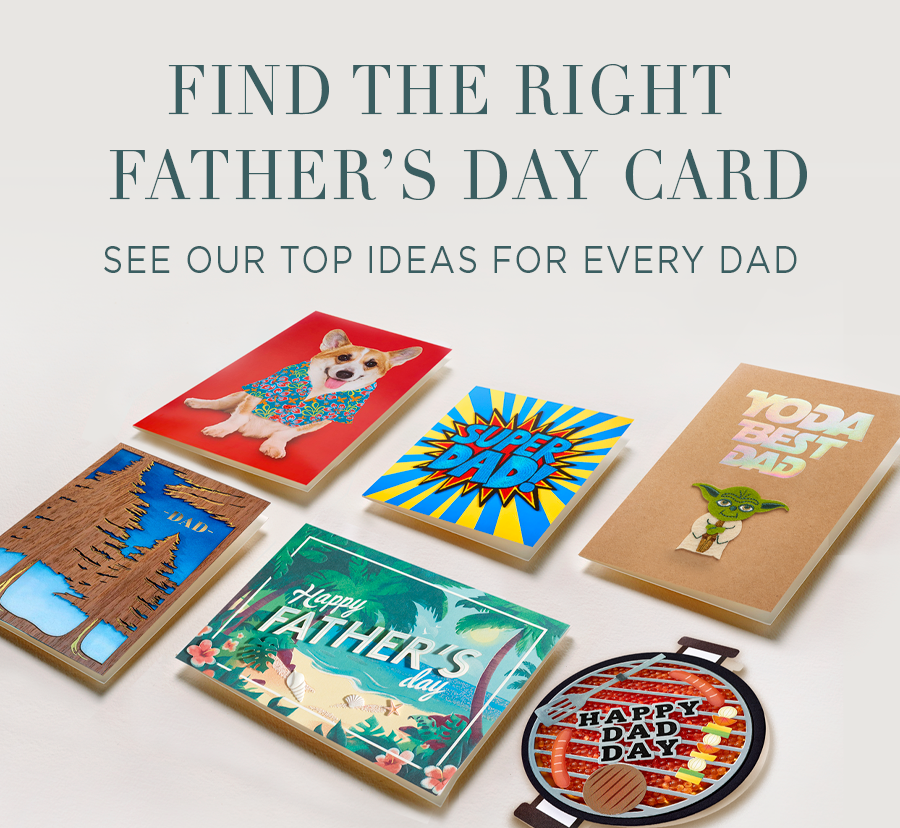 Our Top Picks For Father's Day Cards
Dads are awesome! They take us on cool trips, fix everything, help us with whatever we need, and always have the best advice. Father's Day is the perfect time to let them know how much you appreciate all they do. We picked some of our favorite Father's Day card ideas for dads, husbands, boyfriends, role models, and best friends to help you find the right card for the dad in your life.
If He Always Goes Above And Beyond…
If your dad always knows what you need before you know you need it or puts in the extra effort no matter what he does, he'll love one of these cards telling him he is the best of the best.
If He's Hands-on…
For the dad that's always tinkering, fixing, grilling, or playing sports, these cards are a great fit! Choose one that showcases his favorite activity and pair it with something he can use for his next project or sports outing for a super cool gift.
If He Is Always Defending The Galaxy…
Is your dad so amazing that he's out of this world? Do his superhuman powers set him apart from all the other dads? Then give him one of our Star Wars cards to let him he know he rules!
If He Likes To Bond While Exploring Nature…
Hiking, camping, fireside chats – if your dad enjoys having a heart-to-heart while exploring the great outdoors, these cards are for him. With beautiful scenery and a thoughtful message, these cards are sure to tug at his heartstrings.
If He Loves Animals…
Does your dad snuggle with his favorite furry friend or go for daily walks with his pup? Then you've found the perfect Father's Day card for your animal lover. Super cute with sweet dogs and a fun message, these cards will bring a smile to his face.
If Your Husband Writes You Love Letters…
These stunning cards are perfect if your husband is a romantic. With beautiful accents and a sweet sentiments, these cards will make him feel loved.
If Your Husband Likes A Good Laugh…
Is your husband always cracking jokes or playing little tricks? These cards are a fun way to say Happy Father's Day and let him know you adore his hilarious side.
---
Retail Locator
Our website hosts a curated selection of a few of our favorite designs. Check back frequently for updates and additions. Until then, head to a retailer near you to shop for hundreds more!