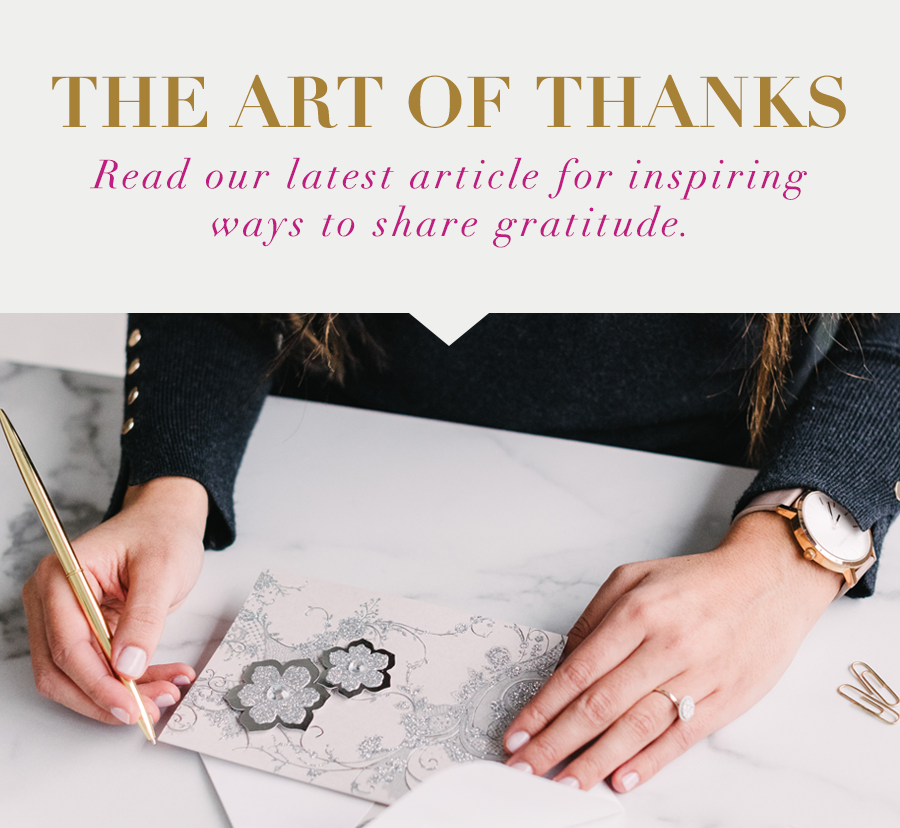 The Art of Thanks
There's something incredibly special about sharing our appreciation with the people who make a difference in our lives. A thoughtfully selected thank you note is such a meaningful way to connect and recognize the kindness of others.
Explore our curated collection of thank you cards below and be inspired to show your appreciation in beautiful and memorable ways.
Wedding Thank Yous
The wedding season is full of exciting milestones, and the people who share in the joy and celebration make every moment mean more.
That's why it's so important to send thank you notes to everyone who shared in your wedding festivities, whether it was by offering support or help with planning, attending wedding events, giving a gift, or helping make everything feel extra special. You can even share your appreciation with your photographer, caterer, or other wedding vendors who played a role in making your wedding a day to remember.
When crafting your thank you message, think about a memory or moment from your wedding that this person made more special, and take the time to include it in your note. It's a wonderful way to personalize your thank you card.​
Baby Thank Yous
The journey to parenthood is an amazing time, and there are so many wonderful ways our friends and family share their support, encouragement, and excitement. Whether you want to thank someone for attending your shower, giving a gift, or providing a meal after the baby arrives, a handwritten thank you note lets the recipient know how much their involvement means.
Business Thank Yous
A note of appreciation is a good way to build and strengthen relationships with those we work with. A personalized thank you note is the perfect opportunity to celebrate and give thanks for a great year of working together, recognize an achievement, or simply thank the recipient for all they do each day. And don't forget about Boss's Day, Administrative Professionals Day, and National Employee Appreciation Day.
Thanking Teachers and Mentors
Another great reason to send a thank you note is to express gratitude for the teachers and mentors in your life. Whether it's someone who mentored you personally, or someone who mentored your child, letting them know the impact they had will encourage and uplift them.
Other Reasons to Express Thanks
In addition to the ideas above, there are many other reasons and circumstances that are perfect for an unexpected thank you note. From birthday gifts to help with moving or even just letting someone know all the reasons you're grateful for them, you'll make their day by sharing your appreciation.
Find even more thank you cards and stationery options online, or at a retail location near you!