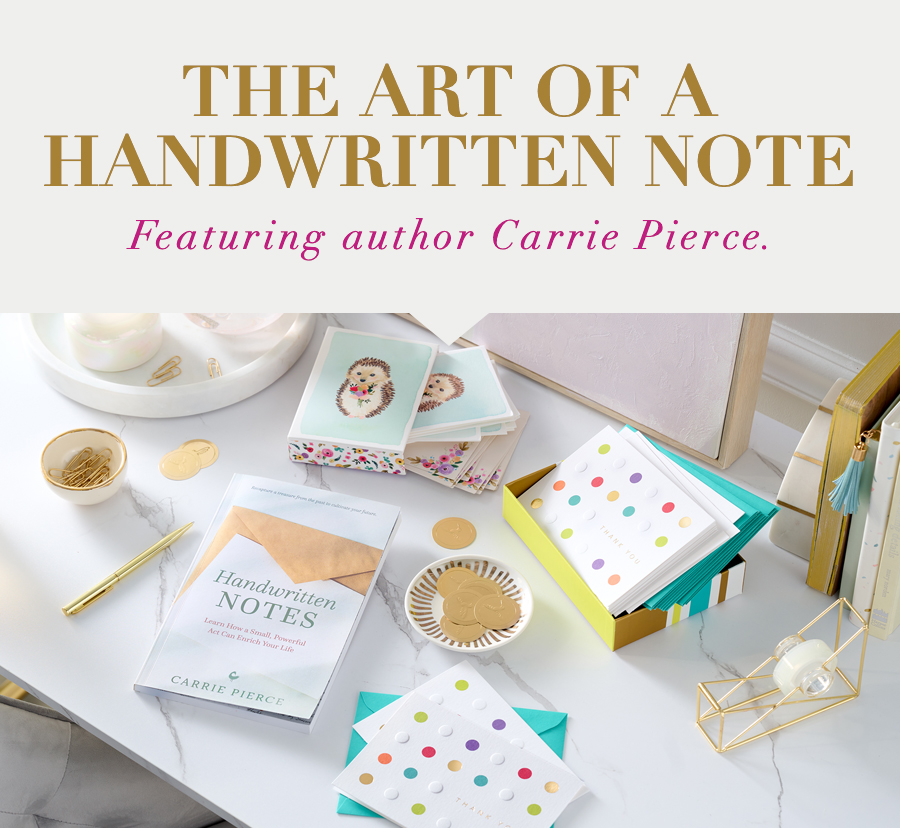 5 Questions to Ask to Create Better Handwritten Notes
In my book, Handwritten Notes: Learn How a Small, Powerful Act Can Enrich Your Life, I talk about the benefits of reaching out to others using handwritten notes. One major point I make in the book is that writing impactful notes requires deep, focused thought. High quality is what we're after. Phoning it in with generic superlatives or flattery doesn't count. To write a truly captivating message, one that lingers in another person's mind for months on end, one that they'll appreciate in a way where they'll look at you with renewed reverence, you must spend focused time thinking about them.
Take your time; writing with sincerity is key. For an added degree of authenticity and impact, write your message on beautiful stationery or in a premium Papyrus card. Using the best stationery you can find makes a statement about how special the other person is to you. When someone opens a card that is rich in quality, the message on the card lands more meaningfully to the recipient. They feel extra special because not only did you take the time to write a heartfelt message, but you chose the finest card to send. Another reason to choose your stationery wisely is that your note might be kept for a very long time, so you'll want the stationery to be sturdy and look beautiful. My go-to brand that delivers on this type of quality is Papyrus.
Here are some questions to ask yourself before getting started on your note:
1. What makes this person unique?
What impresses you the most about this person? What do they do well? Do they make parenting look easy? Do they have a great sense of humor? If they are big-hearted, how specifically do they show it? Do they have an infinite amount of patience? Do they make a killer cocktail? Everyone wants to feel like they matter; give people that feeling, and you will positively impact them. For example, are they the type of person who makes the world around them a better place to live? Are they loving caretakers of others? Why not write these thoughts down and send to them in a card?
Here are a few of my favorite cards for messages like these:
2. When is this person at their best?
Think about when you see this person at their best. Perhaps it's when helping a neighbor in need, or maybe it's at work leading a team. My mom is at her best when things don't go as planned. She excels in unexpected and challenging situations, somehow making the impossible look easy. I'm in awe of her strength and confidence in those situations. And I write her notes telling her so. The notes encourage her and give her a special lift, and they deepen my connection with her. I could text her, but there's something about pen-to-paper that makes the message more meaningful. It tells you that someone took the time to think about you.
Here are some cards that are perfect for telling people how you see them at their best:
3. What obstacles have they overcome?
Take a walk in another person's shoes and look at what they've had to endure. Acknowledging someone's obstacles in a note is the type of deep-level validation that brings magnetic pull to relationships. Resist the urge to self-relate: "I've been there too — when I was out of college I had this happen to me…." You're upstaging another person without knowing it. You may have good intentions, but the reader will disengage, and it will limit your goal of a greater connection. So tuck away your instinct to focus on yourself and instead zero-in entirely on the other person's obstacles. One of the cardinal rules of writing an impactful note is to make the note 100 percent about the other person.
I love these cards when validating another's experiences:
4. What are this person's sources of pride?
It's OK to ask a person what accomplishments they're most proud of. Who wouldn't like a friendly stage to talk about their successes? Whether you ask or not, you probably hear interesting things about people from others all the time. Think about all the good you could spread if you started paying more attention. It could be as simple as hearing, "If you want the job done right, you have to ask Dave." Dave sounds like a diligent and responsible person. How much more engaged and connected would we be if we paid attention and let others like Dave know how they're perceived?
How much more fulfilled would we be if we knew about all the good things people thought about us? John Redos, the crew coach of Blair Academy in New Jersey, has led the girls rowing team to win several championships. He once showed me his team's wall of Post-it notes that players write after each practice. They highlight what someone did well in practice. Seniors encourage freshmen, and friends encourage friends. For a sport that relies heavily on team camaraderie and trust, it's no coincidence that Redos' team is among the top in the nation.
5. What qualities in this person do you wish you had more of yourself?
There's nothing more endearing than hearing someone wish they were more like you. Many resist admitting admiration, thinking they'll look smaller to the other person. But the opposite is true. Your demonstration of humility and kindness will not only increase someone's respect for you but they'll perceive you as more trustworthy as well.
People never forget how a sincere compliment made them feel. So write it down on high-quality stationery to show them how special they are and send it today. You'll both be better for it.